Change

Co-Zenny

(コゼニー, Kozenii)

Debut (Manga):
Debut (Anime):
Change
Time Period Located:
19th Century - Osaka, Japan
Seiyū:
Voice actor:
Height:
Weight:
"
Money...

- Change's speech in the Japanese dub
"
Personality
Change was a laid back Shifter.
Abilities
Change is a Time Shifter that looks like a walking purse. He can hypnotize people using the persuasion of wealth. It can make real money by eating takoyaki, the amount he gives depends on how good the takoyaki was. Anyone who climbs into his purse will be converted into money.
He normally hops around like a frog.
Eldora's power was shown to be able to counter Change's own wealth related powers.
Forms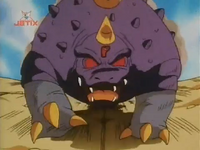 Change-Con (which looks like Change but bigger and has spikes all over his body) can shoot gold bullions.
Never shown
This Shifters Super transformation was referenced outside the show and resembles a Daikoku-ten
History
Trivia
Ad blocker interference detected!
Wikia is a free-to-use site that makes money from advertising. We have a modified experience for viewers using ad blockers

Wikia is not accessible if you've made further modifications. Remove the custom ad blocker rule(s) and the page will load as expected.